Emilio Pagan made his debut in 2017 with the Mariners. He impressed somewhat as a 26-year-old rookie, notching a K-BB rate of 24.5% en route to an xFIP- of 93. Not bad. The Athletics traded for him that offseason, whereupon Pagan promptly did much worse. His strikeout rate dropped four points while his walk rate rose three. He also suffered from long-ball-itis and saw his xFIP- climb to a below-average 112.
The Rays then got ahold of him in the three-team Jurickson Profar deal with Texas. Pagan began 2019 in Triple-A but was called up in mid-April when Blake Snell fractured his toe. Three days later, Pagan was sent back down; two days later he was back in the bigs. All he's done since then is help his team chase a playoff spot.
As the team's nominal closer, Pagan has accrued 1.4 WAR, which ranks ninth among qualified relievers. Take leverage and innings totals away and his 1.63 WPA/LI ranks fifth. Baseball Prospectus and their DRA-based methodology agree he's good. Among pitchers with a maximum of 75 innings pitched, Pagan's 1.7 WARP ranks fifth.
Pagan's been dominating hitters to the tune of a 30.6% K-BB rate, seventh-highest among qualified relievers. And when batters do put the ball in play against him, they're not doing much. His .213 xWOBA against is the lowest in the entire sport among pitchers who've faced at least 50 batters.
The secret to Pagan's improvement lies in his four-seam fastball: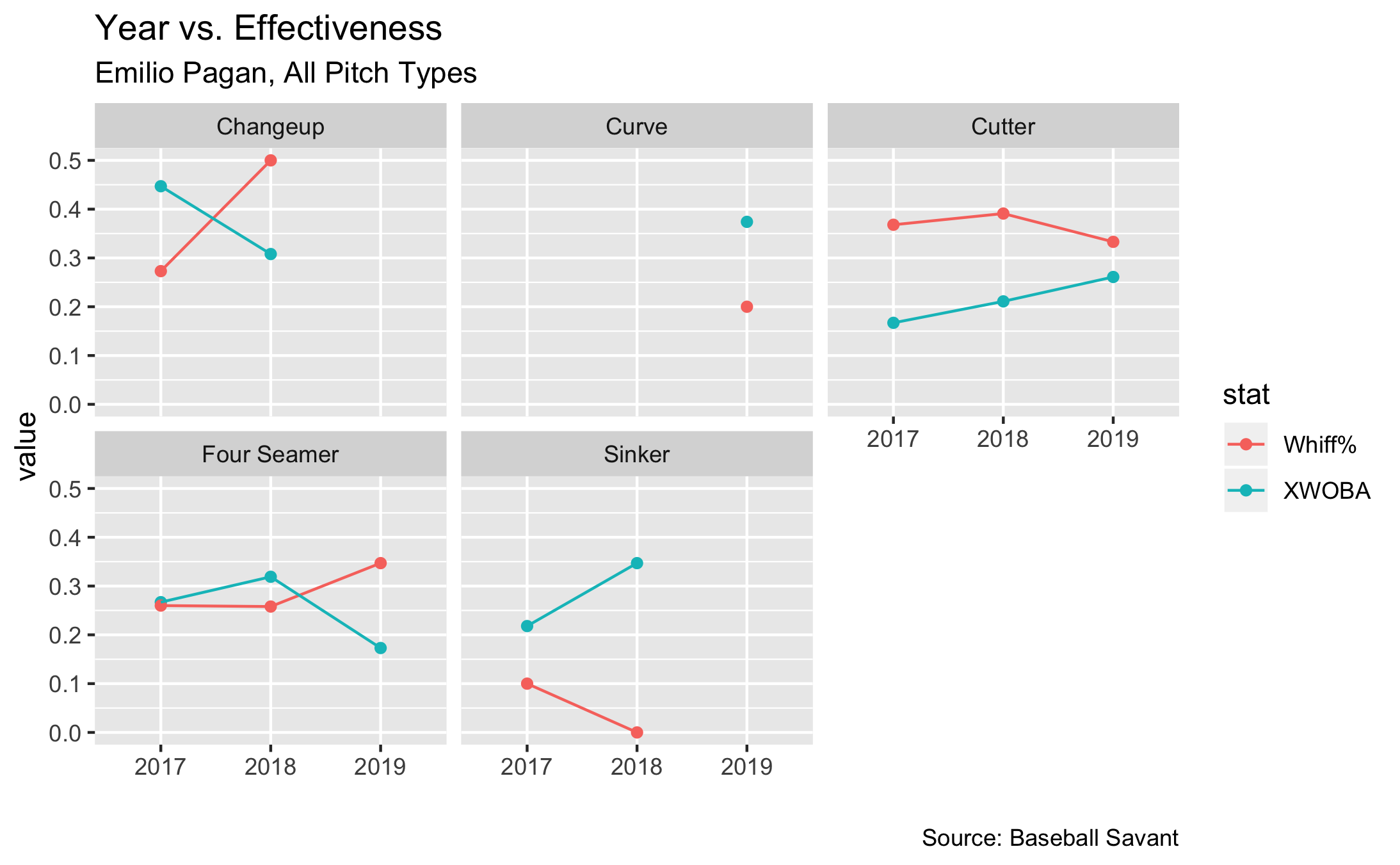 Year over year, its whiff rate has increased 8.9 percentage points and its xWOBA against has dropped 0.146 points. None of his other pitches exhibit any such improvement; besides his cutter, he's either scrapped them (sinker, change-up) or introduced them this year to poor results (curve).
Pagan's fastball has always had elite rise. This year, it's 21% more than average, putting him in some excellent company:

You may have heard of some of these guys. He's also added a good amount of velocity every year since 2017: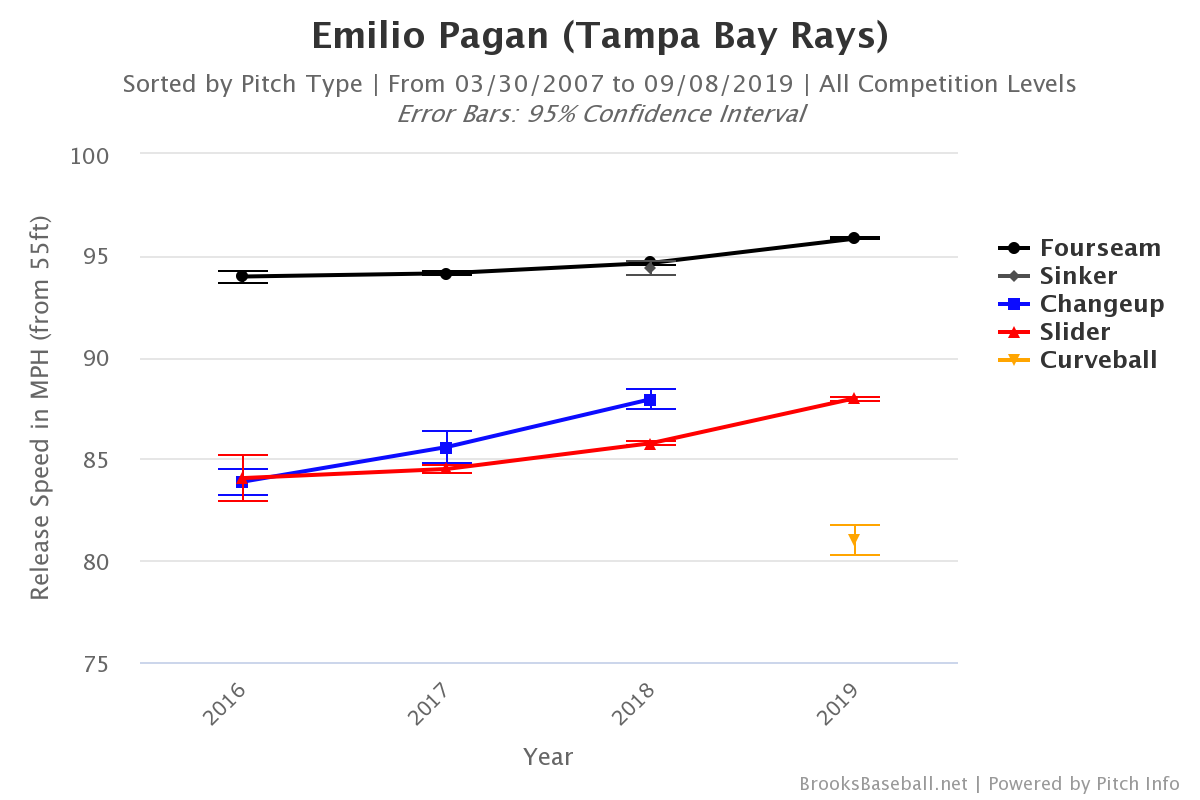 And he's maintained a high spin rate on the pitch. Major leaguers average about 2282 RPM on their fastball, whereas Pagan averages about 2484: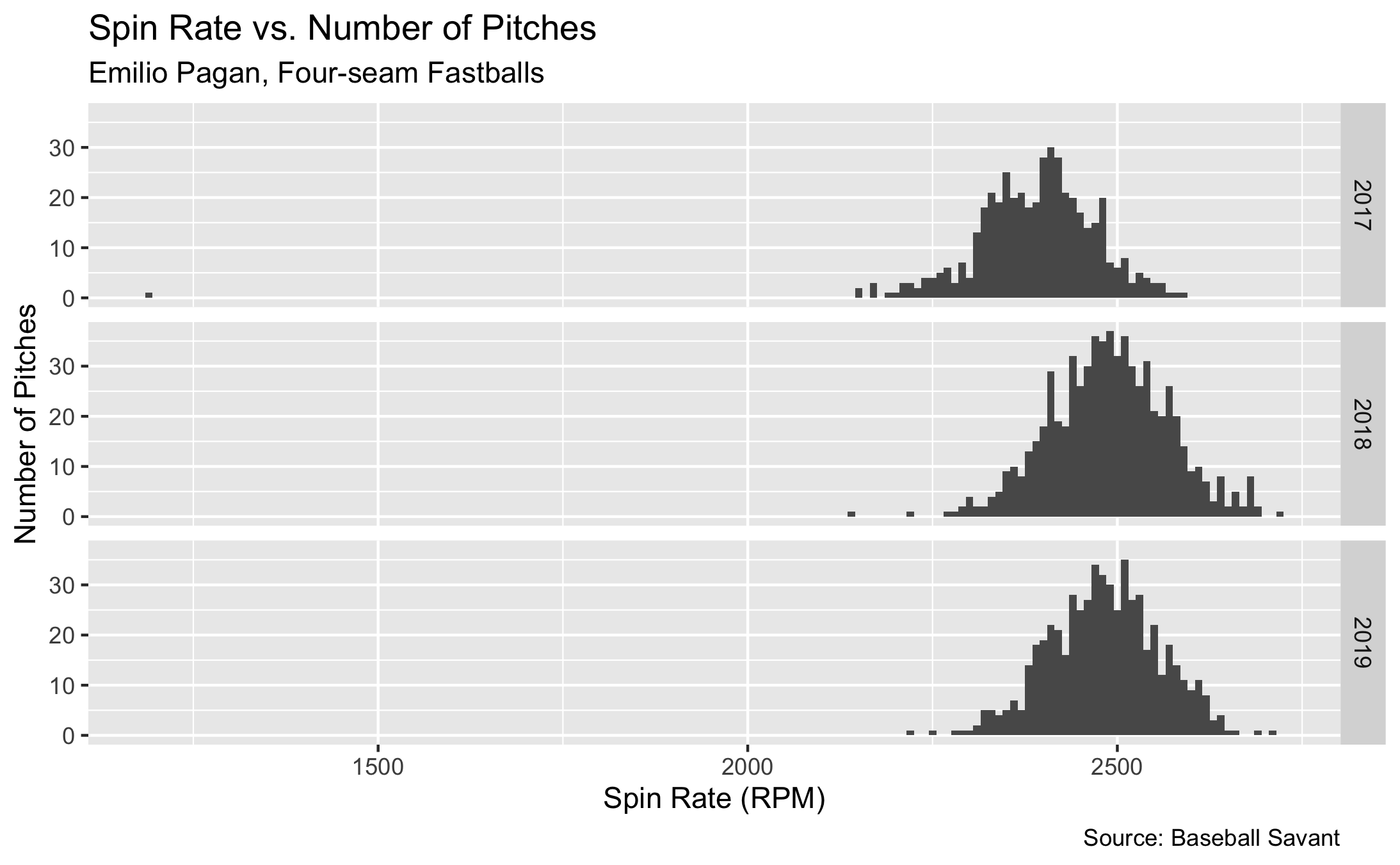 With the Rays, Pagan took his fastball's rise, velocity, and spin and combined them with one final ingredient: pitching up in the zone. The following graph shows this increase: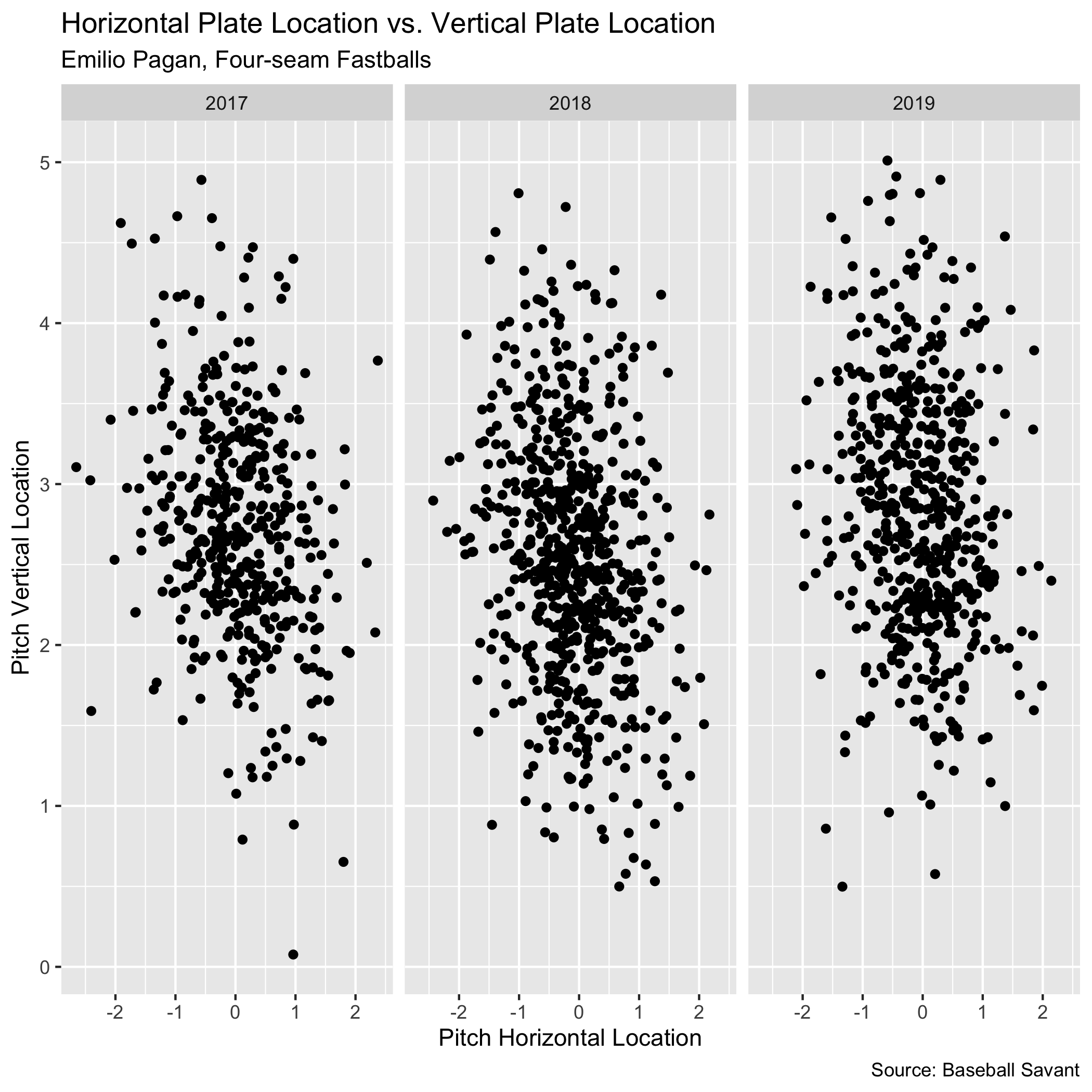 Going from Seattle to Oakland, Pagan's fastball vertical location dropped from 2.7 inches off the ground to 2.5. In Tampa Bay,n it rose all the way to 2.8 feet off the ground.
It sure looks like the Rays acquired Pagan so they could work with him to elevate his fastball. If so, this trend is nothing new. Prior to the 2015 season, Jeff Sullivan noted that the team (whom he now works for) was targeting pitchers who could, or who could be trained to, elevate their fastball. Nearly five years later, Pagan is helping the team average the second-highest vertical fastball location in the game.
Of course, the Rays are merely the face of a game-wide trend. The league-average fastball height has risen every year since Sullivan wrote his article. More and more baseball articles talk about pitchers elevating their fastballs to counteract hitters' swing paths. It won't work for everyone, but Pagan had all the ingredients: rise, spin, and velocity. Perhaps he just needed the right tutelage.
Both the team and the player should be pleased with the results. Pagan will enjoy the fruits of his improvements when it comes time for salary arbitration in 2021. In the meantime, his employer will enjoy another weapon they can deploy in a tight AL playoff race.
All stats through games on Saturday, September 7th.