I was at first very critical of the Pirates trades. I didn't think the surplus value is bad, but I didn't like getting older prospects with lower ceilings who are MLB-ready instead of higher-upside guys who are farther away. My thinking was that the Pirates can't buy upside, and while those good depth pieces help them to stay around .500, they don't make them a great team. However, what if that is what the Pirates want? I thought it might make sense to tank completely and rebuild for a couple years, but maybe there is value to being an average team in the two-WC era.
So first I looked at what is needed to win a WC.
Year NL AL
2017 87 85
2016 87 89
2015 97 86
2014 88 88
2013 90 92
AVG 89.8 88
So roughly 88 wins are needed, and you have a chance with 85+.
I compared last year's projections (average of PECOTA and FG) with the actual results and calculated the absolute distance (eliminating negative numbers to make the math easier) and the difference (found the projections here).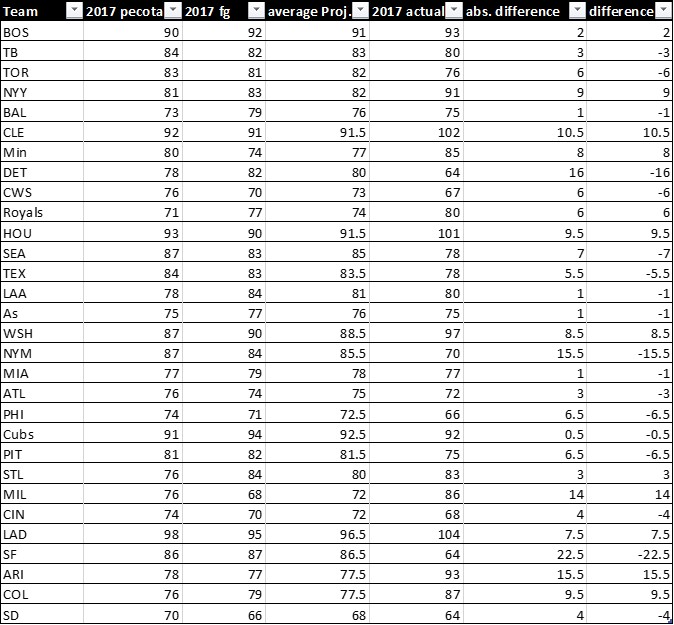 The average difference to the projection was 7.1 wins. Those differences don't mean projections are bad; there is always under and overperformance, unlikely breakouts as well as injuries. Also just Pythagoran luck or bad luck can easily make up 3-4 wins or more. Of course this goes both ways — an 81-win team can easily have a 71-win season, but there definitely is a chance.
As you can see in the upper graphic, usually around 88-89 wins get you a WC, although you sometimes can get one with 85 or sometimes 90+ is required. So a .500 team needs to make up like seven games to get into the postseason. With a little bit of overperformance, one or two Pythagoran luck wins and one or two wins picked up in deadline trades, that is quite possible. Actually 30% of the MLB teams last year were plus-7 or better. That means a .500 team might have around a 30% chance to get (actually half) a playoff spot. That isn't great, but if you are a .500 team for six years, that would mean two WC game appearances.
Now of course that is not ideal. Ideally you want a talent-oozing rebuild like the Cubs, White Sox, or Braves. But other teams now also have recognized the value of cheap controllable talent, and are much stingier with their top prospects. Also, currently many .500 teams have given up and prefer to start a rebuild or at least do nothing. That means, if anything, it might become a little easier to make a WC, because the emergence of the super teams might cause the in-between teams to push the reset button to become the next Cubs or Astros.
Maybe that is really what the Pirates were thinking. The Dave Stewarts are gone, and usually those plus 50M surplus-value trades that made rebuilding so attractive don't happen anymore. Now you have to fight for every million of surplus value, as any intern or even hobby sabermetrist can easily get a pretty good guess of the surplus value of a trade. So maybe the Pirates are trying to use a little game theory here and go against the trend to try finding a market inefficiency. It is a little like with poker. If you play beginner levels, you don't need to worry about game theory and out-thinking the opponent — you just play the plus-EV hands, occasionally make a bluff to keep them off balance, and then you win. But at higher levels, everyone plays the correct hands, and game theory and out-thinking the opponent like a chess player becomes more important. The early sabermetric age was a bit like beginner-level poker, and you just needed to make mathematically correct calls because enough Dave Stewarts were feeding you. But now there isn't that much difference between analytical departments, so that for smaller-market teams, even less than optimal plays can become profitable if they catch the market off balance. A team like the Dodgers doesn't need to do that; they just need to play the mathematically correct hand and avoid mistakes to let their resources do the work, as they just start with pocket aces more often.
But a cash-constrained team like the Pirates might need to do more to out-think opponents and go against the trend, because they can't do what anyone else does with half the resources and expect to beat them. Sure, they would have preferred a GM giving them a Shelby Miller trade, but it just wasn't available, so maybe they re-evaluated and chose a path of sustained mediocrity to chase the second WC.
The Pirates version isn't sexy, just like the 2000s A's way wasn't sexy. People love to dream. They don't want the bird in the hand — they want the two in the bush. Fans don't want an outlook of "we can be an 83-win team for a couple years and maybe make a WC or two," they want to dream about becoming the next juggernaut. Fans are extremely emotional about their prospects. They want to believe anyone is the next Babe Ruth and getting a couple of 25-year-old prospects doesn't really elicit that dream. The Pirates fans don't want that — they want to be the White Sox and have all those studs coming up. But then again, that is no guarantee, as just one or two years ago they had those studs themselves in Glasnow and Meadows and it didn't work out that well (for now, of course — they could still break out).
At first I hated the trades, but maybe it is good that a team chose to actually value mid-80s wins rather than tanking like anyone else. Sure, it isn't nice that their owner has tight pockets, and you would have wished for more, but a future where we just have super teams and tankers is really boring. Maybe that tanking hype is already self-correcting currently. Anyone might've wanted to be the next Cubs, but as more try it and at the same time the buyers get stingier with their prospects, that becomes increasingly harder to do, and maybe as a consequence teams start to value those half-playoff spots more. Baseball really needs a middle field or the regular season will become a long and boring spring training for the postseason (which admittedly has become really great with all those super teams).