Following what was a great debut season in 2017, Luis Castillo has been disappointing. The young righty sported the third-hardest average Fastball (97.5 mph) of all major league starters last season, trailing only Noah Syndergaard and Luis Severino. This year, his average velocity on the heater is 95.8 mph — Almost two ticks below what it was in 2017, which is surprising when considering that he is only 25 years old. This is a young pitcher that recently broke into the league, whose fastball velocity has dropped for no real apparent reason, as far as public information has indicated.
Diving into the data, the first aspect of Castillo's game that stands out as changed is his Four-Seam Fastball usage, which has gone down from 50.6% last year, to 34.9% in 2018. Instead he's opted to throw his Sinker 22.2% of the time, in contrast with his 11.6% rate throwing the pitch in last year's campaign. Castillo is also using his Changeup slightly more often this year, while backing off from utilizing his Slider somewhat, in comparison with his reliance on each pitch last season.
When a pitcher has a blistering Fastball like Castillo does, it usually makes a lot of sense for them to use it to challenge hitters with frequency. In throwing his Four-Seam Fastball about half the time last year, Castillo was quite successful. Fellow high-velocity righty Luis Severino was a Cy Young candidate whilst throwing his own Four-Seam Fastball in 51.7% of his pitches.
The question of why the velocity has decreased is effectively up in the air for now, though perhaps Castillo has been throwing it with less frequency because he knows it's not the same as it was last year. Regardless, it's hard to say whether his drop in velocity would be able to facilitate the same usage and success of his Four-Seamer this season, as during the last one — Due to its loss in velocity.
What can be examined to better understand his recent changes, are Castillo's mechanics — And more specifically his release point, as it relates to his arm action. First off, is a Four-Seamer he threw in a July 2017 start basically middle-up in the zone at 96 mph: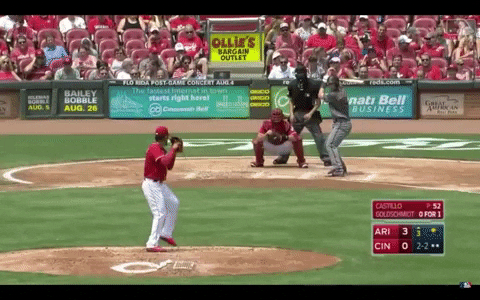 The next is a middle-up located Four-Seamer thrown at 94 mph, in his April 11th Start against the Phillies: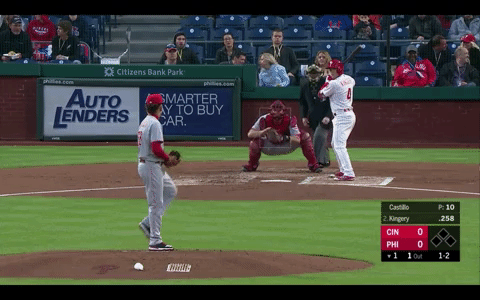 These are nearly identical pitch locations, just thrown in different starts, with two strikes. Notice anything different between the two? Looking at the gifs is not sufficient for understanding what's changed in Castillo's mechanics since last season.
Take a look at the freeze frame of the release points on each pitch:

His arm slot is higher on the right than on the left, which could be the culprit of his struggles. He threw the Four-Seamer with an average vertical release point of 5.90 feet in his April 11th start against the Phillies, despite his average being 5.71 feet on the pitch last season. What's puzzling is that his arm slot has actually been lower on average this season in comparison with where it was during the last.
What's changed between his starts in 2017, and first three outings in 2018 — Is that his arm slot has been very inconsistent between games this year. For example his vertical release of the Four-Seamer was on average 5.58 feet above the ground, during his opening three starts in 2018. Could his variation in arm slots be to blame for his loss in velocity?
Perhaps, though what's important is that Castillo bumped his velocity up in his last start. His Four-Seamer averaged 96.1 mph on April 16th versus the Brewers, in comparison with the Four-Seamer's average velocity of 95.5 mph in earlier outings. His velocity is trending in the right direction! He's certainly on the right track towards getting back to his 2017 form. There are further signs of his improvement, as well…
Here's the comparison between Castillo's start last year, and his most recent April 16th start against the Brewers:

His arm slots here are definitely closer, and the data on his start indicated that his vertical release point on Fastballs was 5.68 feet in his April 16th start — Nearly identical to the 5.73 foot vertical release point on it in 2017. The recent signs in his last start provide evidence that he's going to be fine.
In the box score, his last start doesn't look great. He gave up four earned runs, but when watching the final inning in which he was charged with the runs, it's clear he really just ran into some bad luck. Quickly getting the first two outs, Castillo gave up a slowly hit single up the middle, and the Brewers' pitcher got a two-RBI hit on a pitch that jammed him. It was an unfortunate ending to an outing that should have resulted in him throwing 7 shutout innings. Context is always important, and in the case of his last start, this holds especially true.
There should be little worry about Castillo moving forward, despite his rough beginning to the season. Finding his release point has been difficult to be consistent with, though with the kind of velocity he has, it isn't surprising. This is a rare power pitcher even in the context of many pitchers' newfound increases in velocity. Some bumps in the road shouldn't slow Castillo, who is ultimately a front of the rotation starter.
All Data taken from Brooks Baseball, Fangraphs, and Statcast – Video from MLB.com
When he is not spending time with his family or loved ones, Conrad does all he can to better understand and appreciate the beautiful game of Baseball. Twitter: @conradparrish