Editor's note: The FanGraphs Community Blog has received multiple submissions about Franmil Reyes lately, so we are running a pair together today. Here is the other. Happy Franmil day.
Franmil Reyes. Franimal. La Mole.
There are a few names for one of the most interesting players in the big leagues this year. He certainly has one of the most interesting triple-slash lines — Reyes was the only MLB player with a slugging percentage above .600 and an on-base percentage below .300 going into last weekend.
Reyes, who doesn't turn 24 until July, is now firmly ensconced as the No. 2 hitter in the lineup on a San Diego Padres team that is somewhat unexpectedly above .500 more than a quarter of the way into the 2019 season.
The OBP around .300 isn't ideal — it's the second-lowest among the 52 players with slugging percentages above .500. Reyes ended 2018 with a .340 OBP, so he has demonstrated the ability to get on base at an above-average rate, but this season he has traded some walks for a spike in power by being aggressive, particularly early in at-bats. He was slugging .963 on first pitches after Wednesday's game, including this blast Friday night for his 14th homer in less than 160 at-bats. There was also this shot to right-center for his 15th homer on a first pitch on Monday. If pitchers come to the inside part of the plate on a 0-0 count against Reyes, he has made them regret it.
Impressively, his aggression is not leading to an increase in strikeouts — rather, his K rate has gone down from 28% in 2018 to 25% in 2019. Reyes has made a lot of noise with his bat, including many loud outs. Bad batted ball luck has led to a .255 BABIP this year despite being in the 93rd percentile in average exit velocity, so there is still possibly some upside he has yet to reach. He isn't in danger of platooning, with a higher OPS against RHP than LHP, and his spray chart shows he can do as much damage to the opposite field as he can the pull side.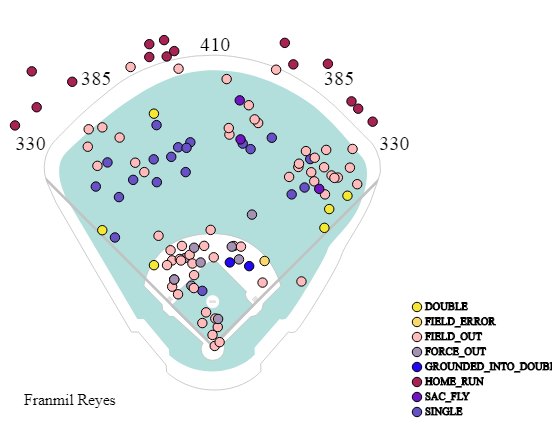 Someone saw Franmil Reyes coming. One of the last articles Jeff Sullivan wrote for FanGraphs before being hired by the Tampa Bay Rays was titled "The Padres' Most Promising Hitter," highlighting Reyes' hot finish to 2018, in which he had the best improvement in all of MLB in his K-BB% in August and September. In that stretch, he ranked in the 87th percentile for expected wOBA. He has only gotten better, now in the 90th percentile in that stat this year.
So do the Padres have a star on their hands? Both the counting stats and the peripheral numbers certainly seem to indicate this isn't just a hot end to 2018 and start to 2019. As Sullivan wrote of La Mole (Reyes' nickname, Spanish for The Beast), "Late-season improvements in peripherals don't always stick, but they're more believable when you're dealing with rookies. They're also more believable when you're dealing with young players who seem to understand what it takes to get better. Reyes is a thoughtful and dedicated hitter, and he's proven himself able to make rapid adjustments."
More adjustments are probably necessary, particularly to improve his walk rate. If pitchers give him fewer pitches to hit early in the count, Reyes needs to work more walks to give the guy behind him in the lineup (whom the Padres paid $300 million this offseason) a chance to hit him in. He is also a big boy, listed at 6-foot-5 and 275 pounds, so staying healthy might be harder for him than most (he had surgery this offseason for a torn meniscus).
But if Reyes stays on the field, the bat is beastly enough to keep him as an integral part of San Diego's push for contention in 2019 and beyond.