Mitchel Lichtman's projection pieces on hitters and pitchers for the rest of the season were discussed quite a lot last month starting with this.  It is hard when you are rooting for a team, and subsequently its players, not to buy in when someone is doing well or poorly.  So let's look at the heartless projecting system ZiPS to see if it is actually buying into some of the performances of 2014 so far.
To do this I pulled the 2014 pre-season wOBA projections and compared them to the ZiPS (RoS), rest of season, projections.  If you take the RoS wOBA minus what ZiPS was expecting prior to 2014 you should be able to see which players are now expected to hit significantly better or worse the rest of the way.  Here are the top/bottom-five players: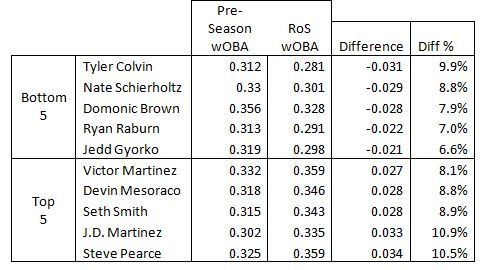 The bottom five, with the exception of Colvin, have been very disappointing and their respective teams would love even the RoS numbers at this point.  The projection still believes Brown can be an above average offensive player despite his putrid play to this point of 2014, but it is starting to look like Raburn's age might be catching up to him and Gyorko's rookie year might have been a mirage.  Schierholtz makes less sense, but he has been so bad that ZIPS can't ignore it, and he was never a great player to begin with.
Others names of note that are projected to finish the year worse may not be surprising.  Raul Ibanez looks done with eyes and statistics, Jean Segura's lack of plate discipline has really caught up to him, and Brian McCann may not be aging particularly well despite being a lefty with power in the Yankees' home park.
There are a lot of players on the positive side, and you can see that the nominal and percent wOBA changes are larger for the improvement group too.  There are 31 players with RoS wOBA at least 5% above their pre-season projection while only 17 projected to be 5% or more worse than expected.  Does this mean that ZiPS is actually an optimist?
The Padres believe in Seth Smith as well, having recently signed him to extension.  He is a righty masher, though they only rarely let him face same-handed pitching.  Victor Martinez is 35 years old and decided to have a renaissance, and may end up with his best hitting season ever.  Baseball is weird.  I'm not sure what to make of Steve Pearce.  He has been around since 2007 without ever accumulating more than 200 PAs, but this season he finally has and the Orioles are making out like bandits.  The other two are what you expect on such a list, young players taking a step forward.  JD Martinez was who I was thinking about when I started this.  I have seen him play several times recently, and he seems to put together a quality plate appearance every time up. Mesoraco, like Martinez, is 26 and has had a huge power spike along with a lot more strike outs to the point where he seems like a different player altogether.
Two Cleveland Indians just missed the top five improvers: Michael Brantley and Lonnie Chisenhall seem to have finally taken a step forward too.  There were two notable Brewers as well.  ZiPS seems to have finally decided to believe in Carlos Gomez and Jonathan Lucroy.
Yes, believing in projections sometimes means we need to temper our enthusiasm when a player we like breaks out or be patient with someone slumping.  It can also be a good way to see when players are truly locking into higher levels of play.  For the older players here it is likely that they will come back to the pre-season projections again next year because Victor Martinez is probably not going to turn into a much better hitter year after year at this age, but for the younger guys we may be starting to see who is taking a step forward.