Fielding percentage is often criticized for the selection bias introduced by a player's range (good defenders attempt more difficult plays, leading to more errors). A similar issue of selection bias is present in stolen bases. On any given pitch, it is at the sole discretion of the runner if he will steal a base or not. Naturally, the runner will only attempt a stolen base when he believes he has an advantage over the pitcher and catcher.
Ivan Rodriguez caught 46% of base-stealers throughout his career, topping out at a 60% caught stealing rate in his prime and leading the league in CS% in nine seasons. Knowing that stealing against Pudge is little more than a pipe dream for most, only the best baserunners would dare to attempt a steal. If this assumption holds, Rodriguez's CS% would in fact be far more impressive than initially reported due to the level of competition he faces relative to a typical catcher.
To adjust for selection bias in stolen-base attempts, I developed an ELO model. For those unfamiliar, ELO ratings are a method of calculating the relative skill levels of players in zero-sum games. You might recognize ELO from chess rankings or FiveThirtyEight's sports prediction models. These ratings can be used to directly estimate the probability of winning a match between two individuals or teams. The ratings change after each match, rewarding a win by an underdog more than a win by the favorite.
On a stolen-base attempt, the runner, pitcher, and catcher all play a major role in the outcome of the play. An argument could also be made for the importance of the fielder receiving the throw, especially when considering the select few who can make tags like this: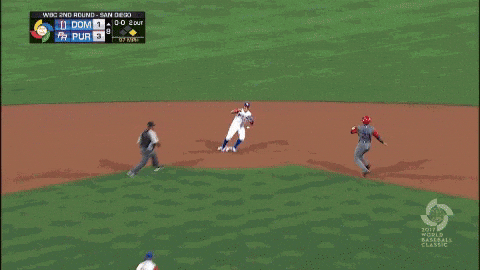 That being said, for the sake of this analysis, it is assumed that all tags are equal. Additionally, the ratings of the pitcher and catcher are combined into a single defense rating, leaving a two-sided match between the battery and the baserunner. The defense rating is a simple weighted average, taking 70% of the pitcher's rating and 30% of the catcher's rating. The 70–30 split comes from Max Weinstein's findings regarding the impact of pitchers and catchers on the battery's ability to control the running game.
The model uses 1978 as the base year, starting all players at a rating of 1000 and updating after each stolen base attempt. At the end of each season, ratings are mildly regressed to the mean and then used as the starting value for the upcoming season. 1979 is the first full season, and by no coincidence, Rickey Henderson's rookie year.
Historical Analysis
Stolen bases have been on the decline recently, making it most interesting to look back to the glory days of stolen bases for this metric. Below are the most impressive player seasons dating back to 1979:
Legendary base-stealers Henderson, Tim Raines, and Willie Wilson dominate the list. These players played at the height of stolen bases and each had track-like speed.
The leaderboard for pitchers is more scattered, with no player repeating in the top 15. This is likely a function of the limited sample size in any given season for an elite starting pitcher. Few runners will attempt steals, leading to a larger influence of luck.
The top catcher seasons read like a tribute to Ivan Rodriguez as he appears five times in the top 15. As discussed at the beginning of this article, Rodriguez was truly excellent at throwing out even the best runners. Yadier Molina also takes two spots — the only active player on this list.
Flipping these leaderboards upside down, the following are the worst sbELO seasons:
Similar to pitchers, we see no repeat names on the worst runners list. Presumably, anyone having this poor of a season stealing bases would stop getting the steal sign from the manager. Ozzie Guillen's 1990 campaign stands out, in which he was caught 17 times on 29 attempts. It's shocking it took 29 attempts to realize he was better off staying put. Notably, it is not the slowest players who are the worst thieves, but rather the players who are overly aggressive given their talent at stealing bases. Guillen would certainly beat David Ortiz in a footrace, though Ortiz knows he has no business stealing second base. Picking your battles is a key component of stealing bases and is heavily rewarded by sbELO.
Unlike the best pitching seasons, the worst pitching seasons begin to see some repeat names: Mark Clear, Bobby Witt, Ted Lilly, and Jimmy Anderson. These pitchers are the most vulnerable to stolen bases and therefore see a much higher volume of attempts. This aligns well with the prior hypothesis that the best seasons were a function of small samples, as we see the effect of sample size on consistency here.
Looking at the catchers, Mike Piazza's name immediately catches the eye, appearing three times on this list. The Hall of Famer was remarkable at the plate but much less so behind it. In his 16 seasons, Piazza compiled just 1.5 WAR on defense, led the league in passed balls twice, and allowed 1400 stolen bases in his career (the second-most in the modern era behind Gary Carter).
It is also of note that no players appear on the lists of both best and worst seasons. This can be viewed as a sign that sbELO is consistent from year-to-year and that players exhibit a true, definable skill in stealing bases or preventing stolen bases.
Many of these top performers for a single season carried this success throughout their careers. The metric sbELO Above Average (EAA) is used to measure sbELO across a player's career. EAA is very simply the total ELO a player has collected over his career less league average for each season he played. That is:
sbELO Above Average = Career ELO – (1000*Seasons Played)
Below are the players who excelled the most across their careers in sbELO:
The names topping the list should come at no surprise. Henderson was dominant on the basepaths throughout his 25-season career, claiming the record for the most stolen bases. Meanwhile, Rodriguez is widely regarded as the most difficult catcher to steal on. He is light years ahead of the competition, with 1064 EAA separating him from Lance Parrish in second place. The pitchers on this list may not be as well-known for preventing stolen bases, although looking at career stats, it is readily apparent why they top this list. For example, Zack Greinke has allowed just 81 stolen bases in 161 career attempts — a tremendous weapon for an already elite pitcher.
Looking farther down the list, Barry Bonds, The Home Run King*, may seem a bit out of place coming in at 11th. Then again, the combination of a long career, near elite base stealing in his younger years, and savvy base-running as a veteran make for a tremendous career on the base paths. Following a similar trajectory, Alex Rodriguez ranks 18th in sbELO Above Average.
sbELO Today: Analyzing the 2019 Season
Focusing in on the 2019 season, the following players excelled in stealing bases or preventing stolen bases:
Looking at the best base-stealers, Jonathan Villar comes in one spot ahead of Mallex Smith despite having fewer stolen bases and the same number of times caught. The logic behind this is that Villar took his 46 attempts against more difficult competition than Smith did in his 52 attempts.
The pitcher leaderboard is again scattered with seasons of low volume of stolen base attempts. Marcus Stroman comes in at eighth-best, and faced 19 stolen base attempts, substantially more than any pitcher with a better sbELO. Baserunners' aggressiveness against Stroman was likely caused by his stint in New York with Wilson Ramos, a far below average defender, enticing runners to steal.
At catcher, J.T. Realmuto earned his Gold Glove award, leading the league in CS% and recording the highest sbELO of any catcher this season by a whopping 87 points.
As for the players who are having nightmares about stolen bases following their 2019 seasons:
The battery of Ramos and Noah Syndergaard had tremendous difficulty catching runners. Citing framing issues, Syndergaard began to use Tomás Nido as his personal catcher midway through the season. Undoubtedly, the inability to control the running game was a notable issue for the pair. Syndergaard was by far the worst pitcher at controlling the running game in 2019 while Ramos ranked fourth to last in sbELO. Unfortunately for the Mets (as most things are), Nido's far-below-average 953 sbELO doesn't represent much of an upgrade at the position.
Molina is another interesting case. For much of his career, Molina was consistently rated as one of the best catchers at controlling the running game. In fact, he holds two of the top 10 best seasons by a catcher according to sbELO (2007 and 2012). However, it appears age has maybe finally caught up to him as he ranked just 31st in 2019 with an sbELO of 1019, not too far removed from league average.
Rafael Devers had a breakout season at the plate, but unfortunately for the Red Sox, he didn't like to stay on base. He was caught on seven of his 15 attempts, especially painful when big bats like J.D. Martinez or Xander Bogaerts would have had the opportunity to drive him in.
Notes and Acknowledgements
The data for this project was downloaded from Retrosheet. Stolen base and caught stealing values may not align with official statistics as Retrosheet may categorize some of these events differently.
If you're interested in playing with the data, a basic shiny app can be found here.
This project was inspired by playerELO, an article published here on FanGraphs Community in August of 2019 by Jacob Richey. playerELO takes into account strength of schedule in batter vs. pitcher matchups. His article can be found here.