Far and away the most expensive current player on the Padres is Eric Hosmer, who has proven to be quite disappointing so far in his short time with the team. He's due $21 million next season, which is three times the second-highest salary on the club. For a team that will almost certainly never have a payroll that compares with larger market teams, that's a significant price to be paying.
Although he was signed in February of 2018 to be a cornerstone for the team, he promptly put up a mere -0.1 fWAR last season. He's always been an inconsistent performer year-to-year, and this campaign was no exception. How could a player who put up 4.1 fWAR in value in 2017 see his level of play drop off so quickly in the following season? Can he bounce back in 2019 as he often does?
To begin, we need to know what held him back last season as a hitter. Hosmer's a first baseman, so the majority of his value is going to be derived from his bat. Here's a table showing the differences in his offensive production between the 2017-18 seasons:
Eric Hosmer's Past Two Seasons
| Season | OBP | BB% | K% | wRC+ |
| --- | --- | --- | --- | --- |
| 2017 | 0.385 | 9.8% | 15.5% | 135 |
| 2018 | 0.322 | 9.2% | 21.0% | 95 |

He failed to get on base as often, struck out more, and his offensive production declined overall significantly in 2018. Look at his gaudy 2017 numbers. In what other areas of his game did Hosmer change, outside of what the data above has told us? After all, his BABIP decreased from .351 in 2017 to .302 this past season. He clearly didn't have the same luck on batted balls, which hindered his ability to produce offensively.
We should begin by talking about his launch angles on batted balls to understand why his BABIP was so low. Here's the Statcast data on Hosmer's hitting in 2018:
Hosmer's 2018 Statcast Data
| Season | Avg Launch Angle | Avg Exit Velocity | Barrels / PA % |
| --- | --- | --- | --- |
| 2017 | 3.8 degrees | 89.7 mph | 5.2% |
| 2018 | -1.2 degrees | 88.8 mph | 4.4% |
Hosmer hit balls with a higher average launch angle in 2017 and unsurprisingly hit the ball harder with more consistency. This season, he started hitting the ball on the ground even more often, and his numbers suffered as a result. He lost almost a mile an hour on his average exit velocities, and his average launch angle ranked as the lowest among all qualified major league hitters. That's never a good sign and is the principal reason as to why he didn't live up to expectations with the bat last season.
Perhaps there's something to be found in Hosmer's hitting mechanics that may have changed from 2017-18. Here's a swing from 2017 with the Royals on the left, and a later hack with the Padres in 2018 on the right: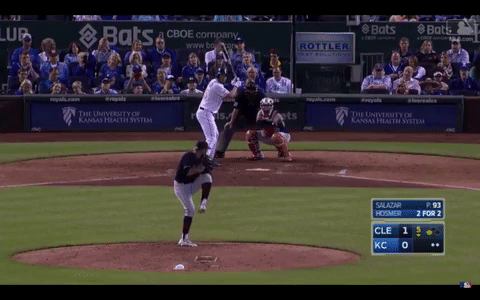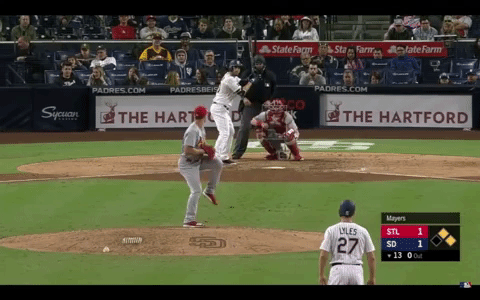 Take a look at Hosmer's leg kick on both swings. See how much higher his knee goes? It's not very easy to see how his leg kicks are different in real time, so let's freeze them at the height of his leg kick: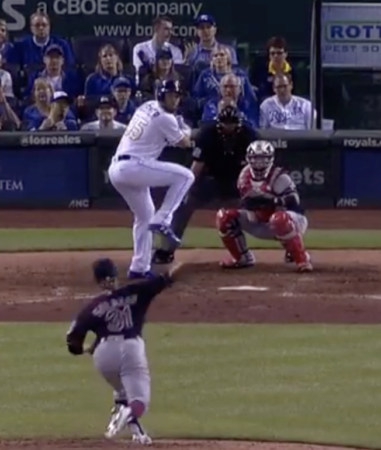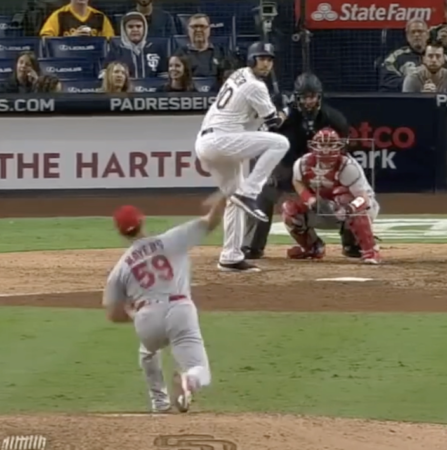 See how much closer Hosmer's knee is to his elbow? Clearly Hosmer had a much higher leg kick last season compared to the 2017 campaign. Maybe Hosmer was pressing in his first season with his new team, and that's why his leg kick was higher. Also notable in his swing changes was his ability to get his foot down early before pitches arrived at the plate: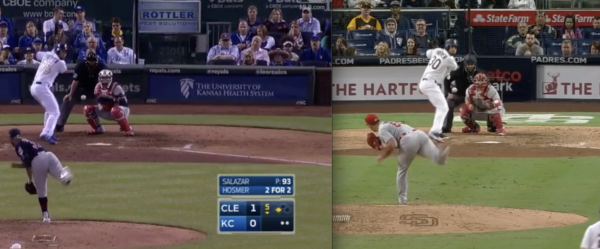 Hosmer's front and back feet are aligned on the left, though they are not in the frame on the right. He's in a more balanced position in the frame on the left, which was potentially a key to his success in 2017. Clearly he should consider going back to his previous hitting mechanics, which could also help him bring up his average launch angle. This is a player who has shown himself to be a talented hitter at times during his tenure with the Royals, so the Padres should encourage him to go back to what worked for him there. Maybe he'll never be a high-launch-angle guy, and it isn't something that works for everyone.
Currently, the Padres just need the best version of Eric Hosmer they can get, and that doesn't require him to try and hit home runs every at-bat. If he could simply increase his launch angle to five degrees, for example, it would likely work wonders for his hitting results. 2018 NL MVP Christian Yelich had an average launch angle of 4.7 degrees — an example of a player who found considerable success with a more line-drive-heavy approach. If Hosmer were to cut down on his strikeouts and hit more balls in the air, he could be a much more valuable hitter for the Padres next season. In order to be the productive player he once was, Hosmer needs to make some relatively small adjustments to his hitting profile. After all, at least going back to the hitting mechanics he used in 2017 would allow Hosmer to hopefully improve in 2019. The Padres will need him if they're going to be competitive with this roster next season.
This post was originally published here at East Village Times. All data used in this article is courtesy of Statcast. 
When he is not spending time with his family or loved ones, Conrad does all he can to better understand and appreciate the beautiful game of Baseball. Twitter: @conradparrish