Have you heard of Michael Lorenzen?  You might have heard of Michael Lorenzen.  You're a baseball fan, and he plays baseball.  But chances are, you haven't heard of him.  He's a mostly unremarkable relief pitcher for a very unremarkable Cincinnati team.  He put up a 2.88 ERA with a 3.67 FIP for the Reds in 2016, hurt by a 22.7% HR/FB rate.  But he did do something special last year, and that something special is worth noting.  Before getting into that, though, let's take a trip to the distant past of 2009.

As you may have heard, pitchers are throwing balls very fast these days.  Noah Syndergaard threw 1,047 pitches of 98 MPH or faster this year!  Back in the simpler times of 2009, only 2,847 such pitches were thrown across the entire league.  Not only were the fastballs slower back then, but the sliders were too.  Here's a bar chart of all the pitchers who threw a slider of 94+ MPH in 2009, with the height representing how many times they threw such a pitch (click through for an interactive version):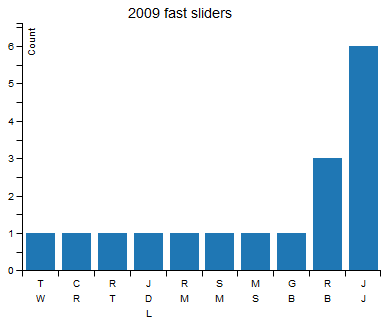 Whoops, I inadvertently left off a data point there.  Let me just add that in real quick: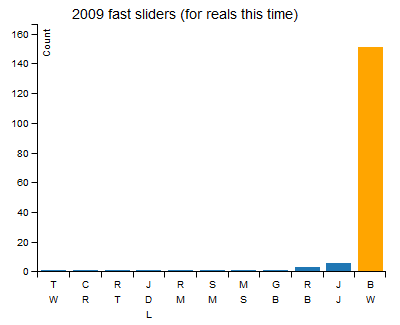 Yep, basically only one person was throwing 94 MPH sliders back in 2009, and that was the way-ahead-of-his-time Brian Wilson.  He and the Giants rode his slider and fastball and beard to the World Series a few times, if I recall correctly.
In 2016, however, the even-year nonsense finally ended and we don't have Brian Wilson anymore.  So what does the bar chart look like now?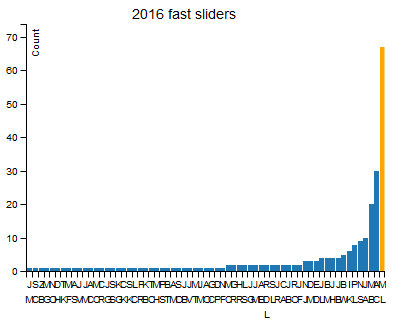 While it's not nearly as extreme as the 2009 chart, we've still got one guy who's thrown more than twice as many of these as the runner-up.  In second place we have Arquimedes Caminero, but in first place, converted outfielder Michael Lorenzen.  Pretty impressive, right?
Well, not so fast.  Here are the results of these 67 sliders, in tabular form:
Michael Lorenzen 94+ MPH Sliders by Result, 2016
| Result | Count |
| --- | --- |
| Ball | 24 |
| Called Strike | 12 |
| Foul | 19 |
| Groundout | 7 |
| Home run | 1 |
| Swinging Strike | 4 |
SOURCE: Baseball Savant
When people put the ball in play, the results aren't bad, but the number that jumps out at me is four swinging strikes compared with 24 balls. For whatever reason, batters are not missing this pitch, which might go a ways to explain why he ran a wSL of -2.7 in 2016 despite the gaudy radar-gun numbers.
The Reds have an interesting conundrum on their hands now. What do you do with a live arm that is throwing a remarkable pitch that isn't showing any results? Do you ask him to stop throwing it? Do you ask him to throw it slower? Do you ask him to throw it harder? I have a feeling this won't be the dominant storyline of 2017, but I'll still be watching it.
The Kudzu Kid does not believe anyone actually reads these author bios.