2017 has been full of surprises so far. The Cubs were supposed to run away with the NL Central, but are struggling to stay above .500. The Backstreet Boys were supposed to drop an album sometime this year, but it's May and we've heard squat from Nick Carter. And most intriguingly, this was the year we were supposed to see a radical change in who batted lead-off — but not much has changed.
Journalists were forecasting 2017 as the year of the slugging-lead-off hitter. Zach Kram of The Ringer boldly proclaimed "The Batting Order Revolution Will Be Televised" in explaining how more and more managers are batting sluggers, bonafide power bats like Kyle Schwarber and Carlos Santana, lead-off. This season seemed poised to be the year that we saw managers reaping the benefits of giving their best hitters more at-bats.
The folks over at The Ringer weren't the only ones — 538, Fox Sports, and ESPN have all described the coming revolution. But there's one small problem — the revolution isn't having that big of an impact so far.
Okay, sure — lead-off hitters have, technically, hit for more power than they have in years past. League-wide, we have seen ISO for lead-off hitters in the past few years jump up faster than Bartolo Colon when he hears the words "unlimited buffet."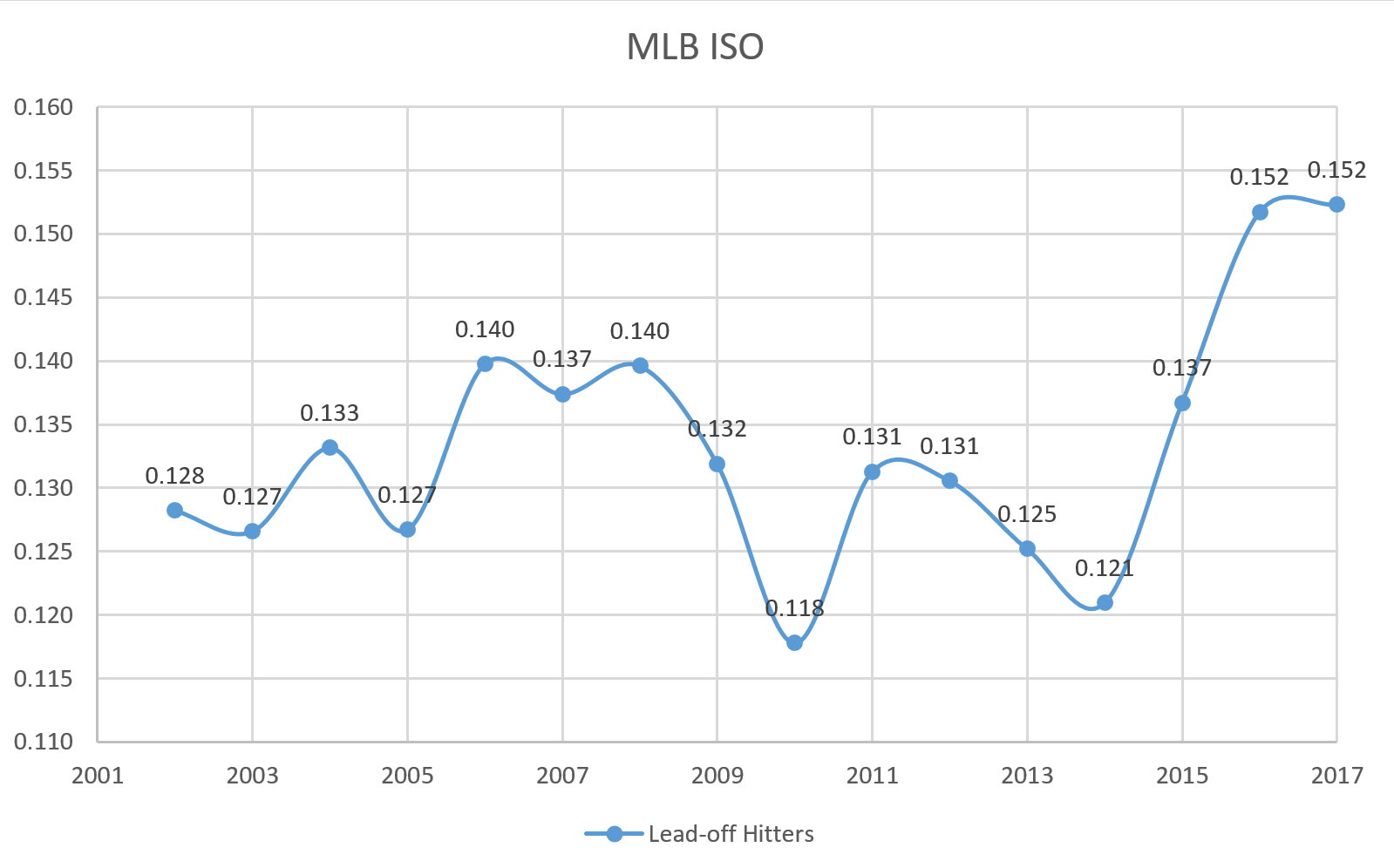 What could be to blame for such a power surge from the leadoff spot? Hint: it has a lot less to do with the fact that managers are batting their sluggers in the lead-off position than you'd think.
Remember the league-wide power surge that the MLB encountered last season? Power across the league skyrocketed — curiously enough, in the exact same manner in which lead-off hitters' power skyrocketed.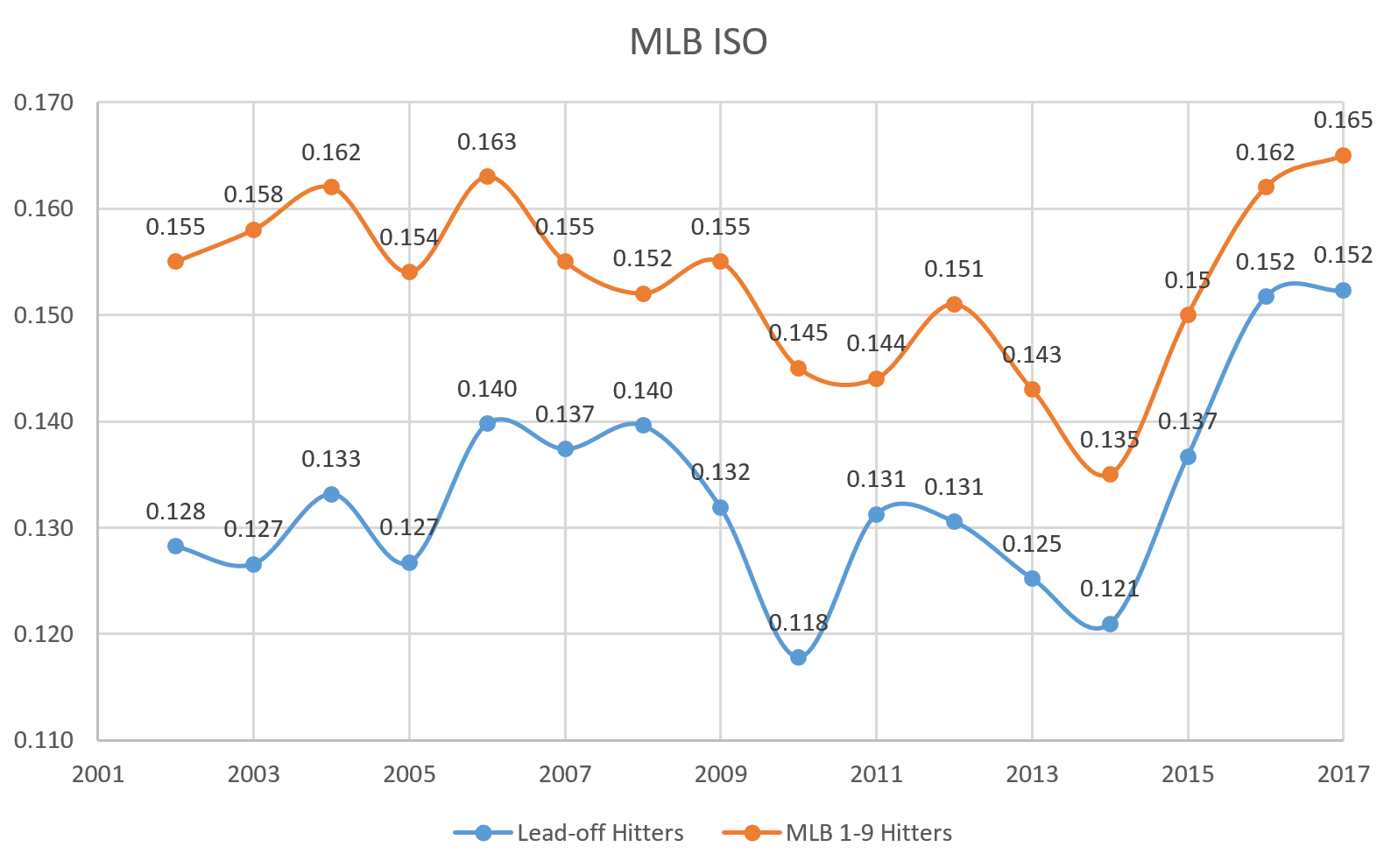 While there are some variations from 2002-2013, the recent power spike from lead-off hitters is almost entirely explained by the league-wide power spike. In fact, if we look at lead-off hitters' ISO relative to league ISO, we find that lead-off hitters are hitting for less power than they did in 2016.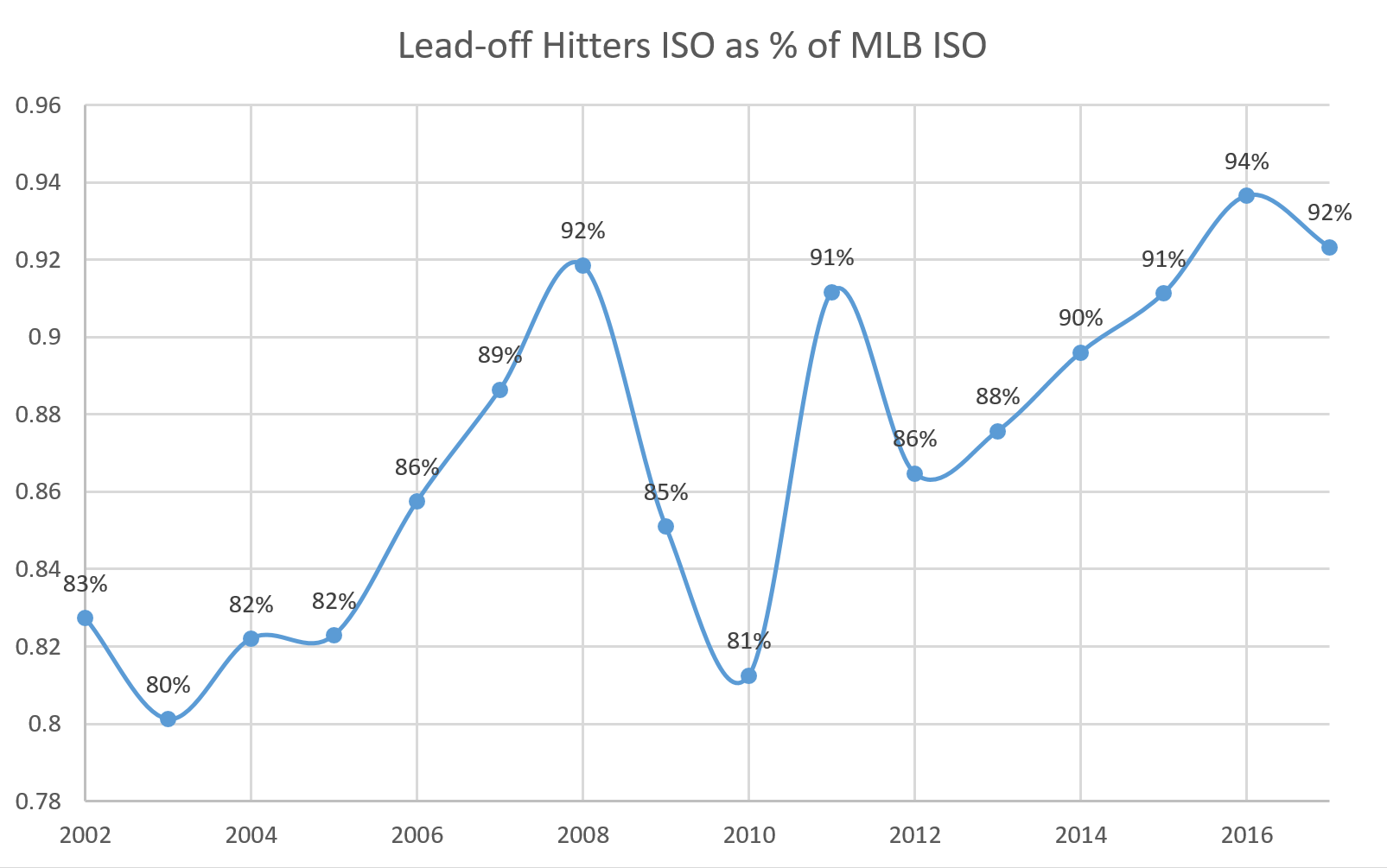 This is not to say that there has been no power surge among lead-off hitters — as you can see above, adjusted ISO in the lead-off spot has risen steadily since 2012. Perhaps that is the result of batting sluggers as lead-off hitters. But the leaps and bounds in production from the lead-off spot as predicted above simply haven't come to fruition. These lead-off hitters are power-surge imposters! It looks like they're maintaining the same power from last year, when relative to the league, they've actually lost power.
The narrative of the power-hitting lead-off batter taking the MLB by storm seems legitimate on the surface, in no small part thanks to Michael Conforto's renaissance as a top-five hitter while starting off games, or Charlie Blackmon's position atop the RBI leaderboards despite spending his season in the lead-off spot — and indeed, these players are providing additional value by leading off.
But these are only individual cases. The "lead-off hitter revolution" isn't having as much of an impact league-wide as the revolutionaries might like to think — after all, Dee Gordon and Billy Hamilton still occupy lead-off slots with their .066 and .084 ISOs respectively, nevermind the fact that the poster-child of the revolution, Schwarber, is making up for the sophomore slump that he missed by being injured for all of 2016.
Lead-off hitters are technically hitting for more power, but so is everyone else. Blaming the huge spike in power in the lead-off spot on managers batting hitters lead-off is to ignore significant league-wide trends, and miss the big picture. Maybe there is a small impact caused by the new lead-off philosophy, but it certainly is not bringing unheralded power and production to the lead-off slot. The revolution might not be a bust (yet), but it still has long ways to go in order to make an impact.
John Edwards is a card-carrying member of the Rob Deer Fan Club, and adheres to a strict diet of fastballs for breakfast. You can follow him @John_Edwards_. He writes about baseball for @sportingnews and @ItheunbalancedI.