Every year, nearly every team in baseball receives significant contributions from unexpected sources. The 2018 campaign was no exception, with a number of players putting up productive seasons while primarily coming off the bench. For the purposes of this article, we'll define a bench player as any player with (roughly) 100-plus plate appearances over the course of the season that did not appear as a team's primary starter at any one position. Additionally, I sorted out players that were traded (or acquired) midseason (Manny Machado for example) or called up to start full time but did not record enough time to count as the team's primary starter at their position (per Baseball Reference). Players with 500-plus PA were excluded from consideration on account of extensive playing time (apologies to Chris Taylor, Matt Kemp, Jurickson Profar, and Ben Zobrist), and one player was selected at each position, along with honorable mentions. Without further ado, let's look at the best of the bench in 2018:
Catcher: Elias Diaz, Pirates
Honorable Mentions: Tyler Flowers (ATL), Luke Maile (TOR)
Diaz certainly served as a key bright spot during an up-and-down season for the Pirates, filling in admirably for the oft-injured Francisco Cervelli. The young Venezuelan had somewhat of a breakout campaign in 2018, posting a 114 wRC+ while contributing positive defensive value behind the plate. Overall, Diaz put up a solid 2.0 WAR in 277 PA on the season. After a weak offensive showing in 2017, Diaz appears to have made notable strides in plate discipline this season, improving his walk rate from 5.5% to 7.6% while dropping his strikeout rate from 19.0% to 14.4%. This decline in strikeout rate represents one of the 10 largest such drops in the league between 2017 and 2018 among players with at least 200 PA in each season. Combined with Cervelli's excellent output, Diaz helped guide the Bucs to a league-leading 5.3 WAR from catchers:
While Flowers and Maile each put up solid seasons in their own right, Diaz ranked among the top 10 bench players in all of baseball by WAR this season and established himself as one of the better backup catchers in the game.
First Base: Max Muncy, Dodgers
Honorable Mentions: Steve Pearce, (TOR/BOS), Luke Voit, (STL/NYY)
Muncy put together one of the more impressive (and surprising) breakout seasons in baseball this year, establishing himself as a legitimate power threat by clubbing 35 home runs (including this one in Game 163) in 481 PA and participating in the home run derby. Muncy made a significant offensive adjustment, continuing to show the excellent plate discipline he's shown at every level but hitting the ball much, much harder than he ever did in his two cameos with the Athletics. As shown in the two GIFs below (the first from 2016, the second from this season), Muncy appears to have adopted a less upright stance, dropped his hands, and added more pronounced lower body movement, and the results have spoken for themselves: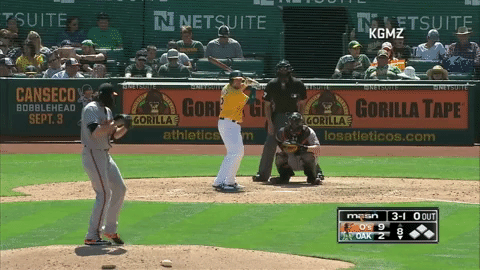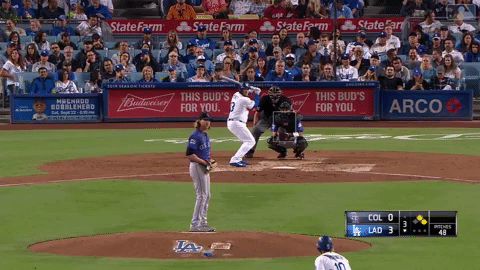 After not taking a single major league plate appearance last season, Muncy remarkably posted the fifth-best wRC+ in all of baseball (among players with 450-plus PA) and racked up 5.2 WAR, topping all bench players by a healthy margin. With all respect to other candidates, if there were a baseball version of the NBA Sixth Man of the Year Award, Muncy would undoubtedly take it home. Pearce has provided a terrific boost to the 108-win Red Sox while AL Wild Card hero Voit has earned more and more playing time with the Yankees after being acquired for Chasen Shreve and Giovanny Gallegos, but neither has matched Muncy's extended run of excellent production (not to mention versatility, as the Dodger has spent fairly significant time at first, third, and second base on the season), making Muncy one of the easiest choices on the list. Despite bouncing all over the field and not being a full-time starter at any one position, Muncy has made himself indispensable for the NL West champs.
Second Base: Adam Frazier, Pirates
Honorable Mentions: Niko Goodrum (DET), Daniel Descalso (ARI)
Another Pirate, another best-of-the-bench winner. Frazier scuffled to an 89 wRC+ in the first half and was even optioned to Triple-A in June, but he turned it around in a big way in the latter half of the season. As the weather heated up, so too did Frazier, as he posted a 169 wRC+ in both July and August en route to a 138 wRC+ mark after the All-Star Break. Frazier's 49-point difference in wRC+ between the first and second half ranked as the 20th-largest such improvement among all players with at least 50 PA in both halves and a first half wRC+ of 50 or higher.
The former Mississippi State Bulldog broke out in a big way after changing his approach, as chronicled by this article from The Point of Pittsburgh. The utilityman began pulling the ball in the air more often this season and was rewarded with a career-high 10 home runs and 116 wRC+. Frazier managed to significantly increase his slugging without a notable change in walk or strikeout rate and posted positive defensive marks by both DRS and UZR in 2018, leading him to a more-than-respectable 1.9 WAR in only 352 PA. With Josh Harrison seemingly likely to depart Pittsburgh as a free agent, it seems like Frazier may get a shot as a full-time second baseman next season.
Goodrum stood out in a disappointing season for the Tigers and seems like one of the best minor league free agent signings of the season. The veteran Descalso showed a surprising combination of pop (13 homers in 423 PA) and patience (15.1% walk rate) in Arizona, but he dropped off sharply in the second half to seal the title of best bench second baseman for Frazier.
Third Base: David Freese, Pirates/Dodgers
Honorable Mentions: David Bote (CHC), Isiah Kiner-Falefa (TEX)
Freese put together a very strong season between the Pirates and Dodgers, posting the second-highest wRC+ mark of his career in a reduced role. Although Freese saw his walk rate drop significantly from last year's career-high 11.5% mark, he rode a career-high .175 ISO, .359 OBP, and solid defensive marks to post 2.0 WAR in 312 PA. Freese split time between first and third base and ranked among the top 50 hitters in baseball with 200-plus balls in play in expected wOBA, per Baseball Savant. Long a solid veteran, Freese will look to add to an already storied October track record with the Dodgers.
Bote performed well in high-leverage situations for the Cubs this season and filled in capably when Kris Bryant went down with an injury en route to a solid rookie debut with the Cubs. Kiner-Falefa established himself as one of the most interesting rookies in baseball in 2018, spending time at catcher, shortstop, second base, and third base while controlling the strike zone and playing solid defense (albeit posting only an 81 wRC+). Third base featured a number of strong candidates for best of the bench, but Freese's continued strong performance, especially on offense, earn him the title.
Shortstop: Daniel Robertson, Rays
Honorable Mentions: Ehire Adrianza (MIN), Yairo Munoz (STL)
Robertson put up a stellar 2018 campaign amongst a crowded Rays infield and put himself on the map as a dangerous bat up the middle, ranking 5th in wRC+ among all shortstop-eligible players (per FanGraphs) with at least 200 PA on the season. Given the presence of Joey Wendle and Willy Adames, Robertson doesn't appear to have a clear regular role in line for 2019, but he should continue to be counted on as an excellent bench player. The longtime A's and Rays farmhand posted a strong 12.6% walk rate in 2018, helping him to post a very healthy 2.4 WAR in only 340 PA.
Robertson served as a valuable utilityman for the Rays this season and saw significant time at second base, shortstop, and third base while making cameos at first base, left field, and even pitcher. He admittedly spent more time at second base than shortstop but fits here for our purposes in a very weak season for bench shortstops. Adrianza put up 0.5 WAR on the season by virtue of playing solid defense and racking up a lot of plate appearances (despite posting only a wRC+ of 82), and Munoz posted an above-average offensive season with strong situational contributions, but he gave back much of the value he accumulated in the field, giving Robertson a fairly easy claim to this spot on the list.
Left Field: Charlie Culberson, Braves
Honorable Mentions: Chad Pinder (OAK), Tony Kemp (HOU)
Pinder led this group in WAR on the season on the back of a 113 wRC+ combined with solid defensive contributions, but Culberson came through when his team needed him most this season, posting 1.55 WPA in 2018. The former NL West journeyman slugged 12 homers in 322 PA this season, doubling his previous career total of six big flies, and he put together solid on-base numbers en route to a 108 wRC+ on the year. Culberson's offensive breakout and remarkable performance in high-pressure situations have already been recently chronicled on FanGraphs, shedding some light on a standout season for the utilityman.
Culberson has certainly earned the "Charlie Clutch" moniker bestowed upon him this season, raking to the tune of a 131 wRC+ in medium-leverage situations and a remarkable 204 wRC+ (in a tiny sample of 25 PA) in high-leverage situations. While the predictive ability of clutch is dubious at best, there's no doubt that Culberson has succeeded in such situations this year, making him a valuable contributor off the bench. Additionally, the first-year Brave has brought strong versatility to the table, filling in capably at third base, shortstop, and left field (before the arrival of Ronald Acuña Jr.) while also appearing at first, second, right field, and the pitcher's mound in 2018. As mentioned, Pinder also put up a very strong season for the Athletics, and Kemp had a strong season for the AL West champions, but Culberson's success in the clutch and versatility made him stand out as a valuable backup in left field.
Center Field: Ian Happ, Cubs
Honorable Mentions: Roman Quinn (PHI), Jake Marisnick (HOU)
Compared to the strong group of bench contributors in left field this season, center field didn't exactly see stellar contributions off the bench in 2018. Happ actually took a step back from last season, but he still put up solid power numbers (15 home runs, .176 ISO) and an improved walk rate (15.0%, up from 9.4% last year) on the way to posting 1.3 WAR in 461 PA for the Cubs. Happ didn't play every day in a crowded Cubs outfield and saw a worrisome decline in contact (.233 batting average and 36.2% strikeout rate on the season) while performing less-than-ideally on defense by UZR and DRS. However, the Cincinnati alum still posted positive value on the season while displaying solid versatility, appearing at every position except catcher and shortstop while seeing somewhat significant action at third base for the first time in his young career.
Quinn brought his blazing speed to the big leagues again after a year absence and ranked third in baseball in Sprint Speed among those with 10 qualified runs at 30.2 ft/sec, but he accumulated only 143 PA on the season and showed concerning contact and power abilities. Marisnick did what he usually does (with the exception of last year's strong offensive showing), hitting for power and playing quality defense but struggling mightily to make enough contact to be a strong contributor. The Astro did post a solid 1.0 WAR in just 235 PA but batted only .211 with a 35.7% strikeout rate. Although he put up a decent season with some positive developments, Happ takes the center field title more because of a weak crop than an exceptional performance. Enrique Hernandez would have taken this spot were he not listed as the Dodgers' primary centerfielder per Baseball Reference.
Right Field: Tyler O'Neill, Cardinals
Honorable Mentions: Eric Thames (MIL), Travis Jankowski (SD)
O'Neill is one of the strongest men in baseball, ranking 24th in average exit velocity, 29th in average home run distance, and second in barrels per plate appearance among the 438 major leaguers with at least 70 batted-ball events in 2018. He's also exceptionally fast, ranking 20th out of 549 major leaguers with 10 or more competitive runs in Sprint Speed at 29.5 ft/sec. However, much like Happ, O'Neill struggled to make contact in his time with the Cardinals in 2018, striking out 40.1% of the time. He also didn't draw many free passes, posting just a 4.9% walk rate, but he still managed to post positive offensive contributions, putting up a 114 wRC+ in his 142 PA.
O'Neill saw time at all three outfield positions in 2018 but spent the most time in right on a Cardinals squad that featured a number of moving parts over the course of the season. Right field was a relatively weak position among bench players in 2018, with O'Neill's 1.3 WAR in 142 PA standing out among a mild group. Thames bounced between the outfield corners and first base for the Brewers and racked up 16 homers (in just 278 PA) on the way to a 105 wRC+, while Jankowski rode speed and solid on-base ability to 1.0 WAR in 387 PA, but neither player performed well enough to beat out O'Neill for the right field spot.
Designated Hitter: Tyler White, Astros
Honorable Mentions: Ji-Man Choi (MIL/TBR), Tyler Austin (MIN/NYY)
While White spent more time at first base than designated hitter this season, he makes the list for his monster performance and a relatively weak group of backup designated hitters, as might be expected. The stocky right-handed hitter mashed his way to Houston's starting first base job in 2016, but he struggled to an 81 wRC+ as a bat-only player before being demoted to Triple-A, where he wasn't able to replicate his past success. However, after another strong minor league showing in 2017, White destroyed both Triple-A and MLB pitching in 2018, posting a line 44% better than league average offensively at the game's highest level. White utilizes a fairly unconventional approach at the plate, with an open stance and pronounced leg kick, but his approach brought success in 2018: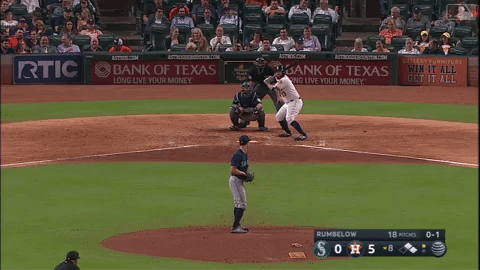 While White hasn't excelled by StatCast hitting measures and doesn't have much of a defensive profile, he has put up one of the better offensive seasons of any bench player in the majors in 2018. Time will tell how sustainable the former 33rd-round pick's success will be, but he's been a solid contributor to the AL West champs this season. Choi put up a very strong season with the Rays after being let go by the Brewers, while Austin put up a decent season between New York and Minnesota, but neither did nearly enough to unseat White's offensive performance.
Overall, 2018 saw a number of strong performances off the bench from players like Muncy, Diaz, Frazier, Pinder, and Culberson, helping teams to overcome injuries and underperformance from more established players. A case can certainly be made for other players at some positions, as this list is somewhat subjective, but the players above certainly posted some of the best seasons off the bench in 2018.
All stats current through October 1st, 2018. Statistics from FanGraphs.com and BaseballSavant.com. GIFS made from MLB.com video clips. Biographical information for players and team starting lineups from BaseballReference.com. "Bench" players determined by the author's own fallible judgement with help from BRef's team pages.