It is not a difficult task to recite some of the hardest throwers of 2018, such as Jordan Hicks, Luis Severino, and the like. The purpose of this article is to highlight the softest throwers of 2018. To do so, I will examine the pitcher(s) with the slowest curveball, slider, changeup, and fastball. We will ignore some less common pitches such as Steven Wright's knuckleball (76 mph) and Hector Santiago's rarely-used screwball (also 76 mph).
To put some modest restrictions on the analysis, the minimum is 30 innings pitched, so odd cases like Jose Reyes taking the mound are not counted.
Curveball: Kazuhisa Makita (60.0 mph)
Kazuhisa Makita signed a two-year contract with the Padres last offseason to come to the United States from Japan. Below is a clip of a 52-mph pitch in spring training. Yes, you read that correctly. 52 mph.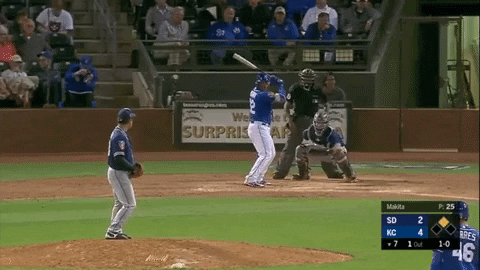 To add to his deceptive submarine delivery, Makita's pitch defies the gravitational forces that would pull a pedestrian 52-mph offering to the ground, breaking just outside of the initial target. It comprises only 4.6% of his repertoire, but is at minimum a very entertaining pitch.
Slider: Kazuhisa Makita (70.6 mph)
Makita returns with a slider that edges out Brad Ziegler's by a little under 4 mph, and he throws it just under 20% of the time. While it is interesting to see Makita take the top honor for both curveball and slider, this pattern will not perfectly hold.
Changeup: Dan Jennings (69.7 mph)
In case you were wondering, Makita comes in third, with his rarely-thrown changeup averaging 72.7 miles per hour. Here is an offering from a 2014 exhibition to Lucas Duda, then of the Mets, taken for a called third strike.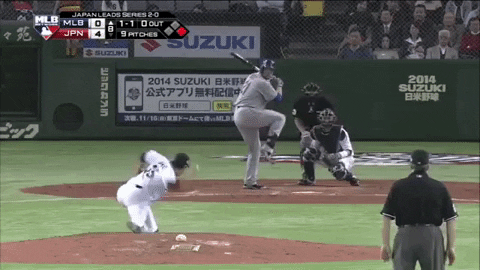 In contrast to Makita, Jennings heavily relies upon the ground ball (56.1 GB% with the Brewers last year). After bouncing around from the Marlins to the White Sox, Rays, and Brewers, he recently signed a minor-league contract with the Angels. Jennings' most notable accomplishment last season was his one-batter start as an opener against the Cardinals, when he forced Matt Carpenter to ground out to second base.
Fastball: Kazuhisa Makita (81.2 mph)
Makita's is king again, with a fastball that was his only pitch to register a positive value last season, so despite its pedestrian velocity, it proved to be his most effective weapon. He threw it 72.5% of the time, far beyond any other pitch. Here he is using it to strike out Trea Turner.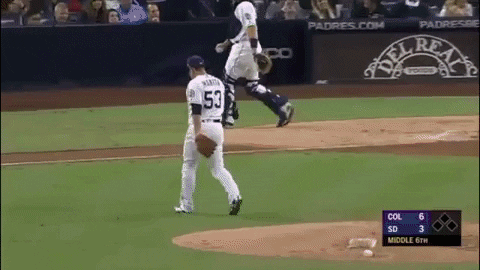 The location in the upper portion of the zone presents a nice contrast to the curveball from earlier.
Here again the fastball is used to complete a strikeout, this time of Ryan McMahon.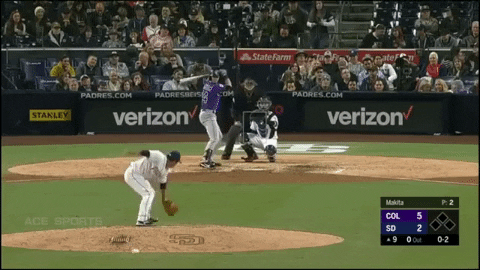 One major problem for Makita last year was his inability to keep the ball in the ballpark, even while playing half his games at Petco. He yielded a 40.4% fly-ball rate, a worse-than-average 18.4% HR/FB rate, and a resulting 5.40 ERA. As a result, he was designated for assignment this offseason and reassigned to Triple-A after clearing waivers. His 4.85 FIP and 3.71 SIERA leave some (albeit little) room for improvement, but given the modest contract he signed to come over from Japan, the Padres have little to lose in keeping the slowest pitcher in all of baseball around.