The Pirates brought in Ryan Vogelsong this winter, and most Pirates fans believed it was a depth move, and that another move would follow and net them a better option. Recent comments by GM Neal Huntington hint that perhaps they are done, and that Pirate fans should resign themselves to seeing Vogelsong as the #5 starter, at least to start the season.
Vogelsong has not been good for a while. In 2011-12 he threw 369 innings for the Giants with a 3.68 FIP, adding 4.6 WAR.  Since then, 423.1 very mediocre IP with 4.33 FIP generating 0.8 WAR.  Steamer projects 109 IP at 4.38 FIP & 0.6 WAR.
With that in mind, I decided to do a little keyboard coaching to find a path to improvement.
The first unusual thing I noticed on Vogelsong's Brooks Baseball card is that he throws five pitches in fairly equal proportion:
Let's look at RHB first. In 2015, he was average, his wOBA against sitting right at .300. Here is the SLG against by pitch for the last five seasons: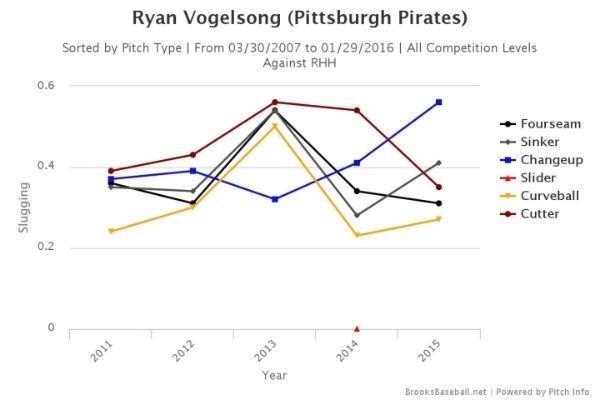 His 4-seam, sinker, cutter, and curve all yielded good-to-excellent SLG, yet in 2015 the changeup got hammered, to the tune of .563 SLG (up from the .370 range), and he got less than 5% whiffs (down from 7% previously, and far below the league average of 11.9%). Yet he still uses it 5% of the time. The curve on the other hand, has been good, producing a SLG under .300 in four of five years, and GB% and SwStr% right around average. I'd suggest it's time to ditch the change against RHB, and rely more on the curve.
Against LHB, he gets torched. Batters mashed a .383 wOBA against him in 2015 and a .346 wOBA in 2014. Here are the numbers by pitch: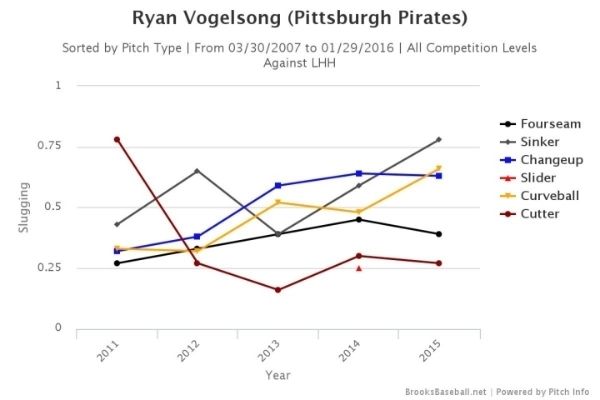 His only pitches with decent SLG against in 2015 were the 4-seam (.390) and the cutter (.265), while the other three pitches all have SLG over .630. (The curve at least has a 16% whiff rate). Those three "bad" pitches are used over 60% of the time. While I'm sure he needs to mix those pitches them in sometimes to keep lefty hitters honest, they are simply getting destroyed. So, I suggest he could have some more success if he stopped trying to throw his sinker and changeup — or at least cut way back — and occasionally mixed in the curve as the pitch to keep them honest.
While Vogelsong's problems likely require a solution more sophisticated than "throw your bad pitches less" (and undoubtedly his coaches have a better view on this than some guy behind a monitor looking at numbers), his recent results suggest he won't be much above replacement level unless he changes *something* vs. LHB. Obviously, resurrecting his once-good changeup would be the preferred option, but failing that: ditch the changeup and stop throwing the sinker to lefties. Boost 4-seam and cutter usage against lefties, and mix in the curve to keep them honest. Maybe a 4-seam/cutter/curve mix would be enough to get him through the order twice, and if not, his results with his "good" pitches may be good enough for the bullpen.