A couple years ago, The Oakland Athletics extended the contract for general manager Billy Beane for an additional 5 years, securing him through the 2019 season. They did not release the specific details of the contract, but we can guess that it's comparable to the $3-4m that Brian Cashman and Theo Epstein make per year. The A's are paying Alberto Callaspo $4.1m this year. Neither Beane's nor Callaspo's salary is particularly surprising, since both roughly reflect the current market for a top-tier GM and a 30-year-old infielder with a career .273/.335/.381 slash line. But is this reasonable? Should the owner of a baseball team be more willing to pay a mediocre infielder than an elite general manager? If the following data on front office success is any indication, absolutely not.
Using payroll data that goes back to 1998, I wanted to compare how well teams achieved success relative to the budgets they were given by their owner. In order to do so, I ran a regression model for every season to determine what sort of an effect payroll had on wins. For each season, the league average payroll is normalized to "1" to allow every season to be in this chart. As the graph shows, teams with more money tend to win more. If you're adventurous and feel like interacting with the data you see below, click here and mouse over everything until you pass out.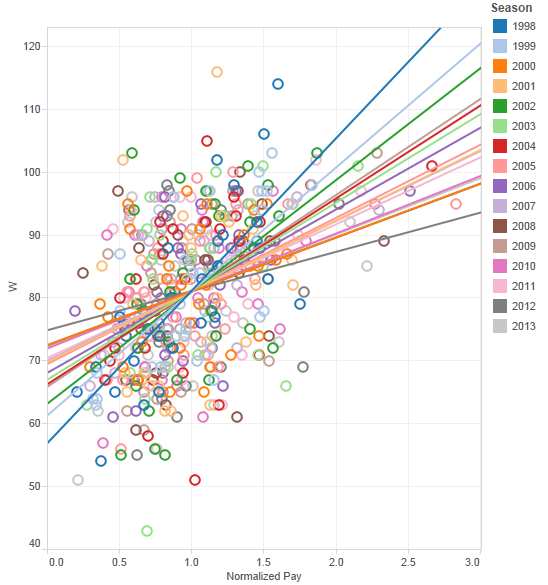 It's no surprise that money leads to success, and the fact that certain GMs tend to outperform their budget shouldn't stun you either. But the extent to which some general managers are better than others is enormous. There are plenty of GMs who did exactly what you'd expect given their budgets. In 9 seasons with the Expos and Mets, Oscar Minaya was given the funds to win 742 games. He won 739. Mark Shapiro was supposed to win 703. He won 704.
Some general managers have better reputations, though. Theo Epstein, former Red Sox GM and current Cubs President of Baseball Operations, was given the budgets that would have resulted in 795 wins from an average GM, but he turned that into 839 wins in Boston. Legendary Braves GM John Schuerholz led a Braves squad that won 78 more games than expected since 1998, when the data begins. The 2nd best on the list, ex-Cardinals and current Reds GM, Walt Jocketty, has been worth an astounding 106 wins.
Then there's Billy Beane: the Billy Beane who the A's are paying slightly less than Alberto Callaspo. Under his direction, the Oakland Athletics have won 171 more games than expected. Babe Ruth had a career WAR of 168. Ruth's best season was worth an absurd 15.0 wins in terms of WAR. Billy Beane has had 6 seasons during which the A's won 15+ more games than they should have. They've never had the money to win 50% of their games, but half their seasons have ended with 20 more wins than losses.
I could go on. But first, let's look at some visuals.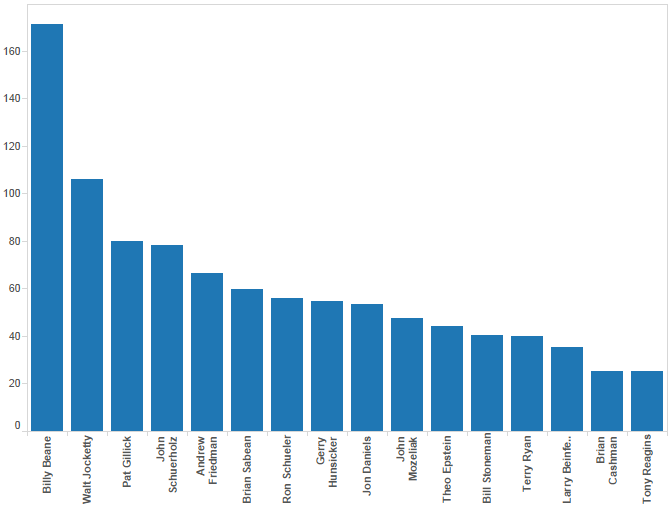 Here are the 16 general managers whose teams have exceeded their financial expectations by over 25 wins since 1998. If you want to look at every general manager's wins and expected wins, explore this. One name I have not mentioned so far that has had an impressive stint as head of the Rays is Andrew Friedman. Since he's been the GM of the Rays, they have been tied with St. Louis as the most cost effective winners in baseball. It's even more impressive when you consider the dumpster fire he inherited.
After ignoring the potential for mediocrity during his first two seasons and building for the future, Friedman's Rays took off. In the past 6 years, the Rays have won 87 more games than they should have. While it's not as good as Beane's best 6-year stretch of 117, it has coincided with a relatively weak stretch for the A's where they have only exceeded their budget-wins by 30 games.
Unfortunately, not every team can have a Billy Beane or an Andrew Friedman. Some teams, like my Royals, have had more struggles. This chart, as much as anything else, shows the overwhelming need for effective front office management.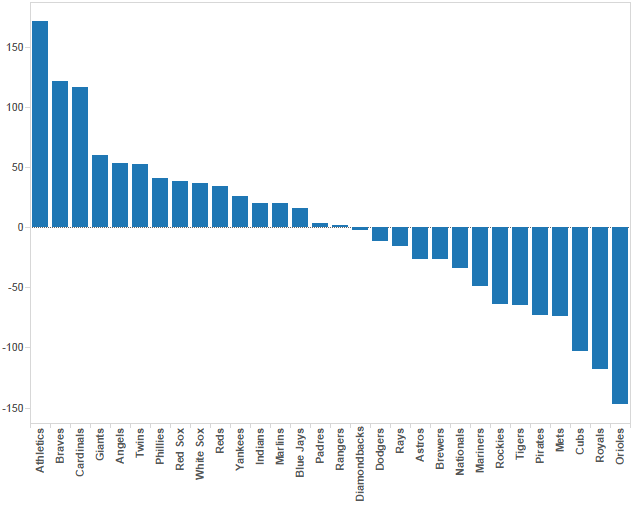 The A's have been 300 wins more effective than the Orioles the last 16 years. If a win is worth $5m as recent free agency has suggested, then I don't even want to type how much Billy Beane is worth. If you're like me, it's worth your time to explore this chart which shows yearly expectations and results for each team. A couple teams to look for, in addition to the ones I've talked about: the Cardinals and Braves have been unsurprisingly excellent, and the Cubs, Royals, and Orioles are worth looking at for less exciting reasons.
So how much should teams be paying their GMs? At this point, that's an easy answer. $1 more than everyone else will pay, because they are tremendously undervalued right now. After that, the answer isn't as clear, but I don't see why they wouldn't be similarly paid to players. One easy counter argument would be that if you pay the GM too much, he can't do his job as well because he would have less money with which to pay players. But I think there is sufficient evidence that, for example, the Blue Jays would win more games with the team that Andrew Friedman could assemble with a $97m payroll than their current $117m team. The fact that the Rays will pay $57m this year for their squad should support that claim more than enough.
The free agent market would say that an elite GM could be worth $50-$100m a year. While that might strike people as unreasonable, it's probably closer to their real value than the replacement level infielder-pay they are receiving now.